Pig and eggs
Posted on March 15th, 2011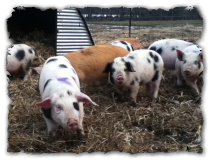 Piglets are here! This past weekend we headed north to Vermont to pick up the first of several groups of heritage breed piglets. We have been working with the same farm for the past several years and we just love getting our piggies from them. All their sows are pure heritage breeds, including tamworth, old spot, and large black - and they raise all their animals on pasture, just like us!

So far we have a mix of old spots and tamworth piglets. More to come in the next month or two.

The piglets are doing great and are in "shock-therapy" training for the next few days...ie, they are quickly learning how electric fencing works! It only takes but a few days and they are fully trained to be leary of the black and white electric fence wire. Once trained, we can take down the outer fence and begin to rotate them through the fields.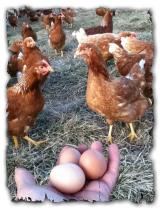 Eggs are coming...slowly! Last week we received the five hundred ready-to-lay pullets we had grown for us while we were away for the winter. The birds are settling in nicely in their two mobile coops and have just barely begun laying eggs. Soon we'll also receive one hundred Araucana birds to add to the flock so each dozen eggs will contain at least one blue egg. Today we collected 18 eggs! Every day we will get a few more and soon we'll be collecting dozens and dozens. So, if you are hankering for some tasty eggs, hang in there! They are on the way. The pullet eggs we are collecting now are small and mighty good with super-tall yolks and tight whites.
Posted in not categorized
Tagged with pigs, eggs