by Pete on April 27th, 2014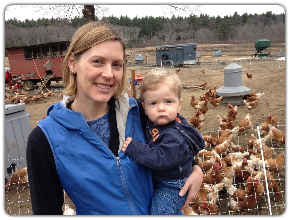 Spring is finally here and while this week it probably won't feel like it, to us on the farm, it is very much here. We always know it's spring when the hens get ansty for their first tasty bits of lush new greens - frantically searching the drab winter soils for any signs of life. But, alas, winter is over and we are happy to announce that the girls are finally back on lush pasture, pecking and scratching away.
Abraham and Jen visited the hens last month just before we moved them from their winter HQ adjacent to the greenhouses - the flock is now moving along the fields adjacent to Route 117. We will be moving the birds quickly through these fields of winter rye and vetch to try and keep pace with the quick spring growth.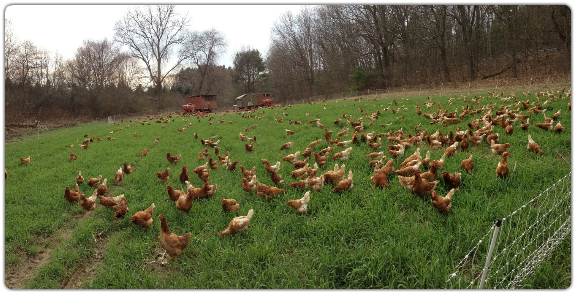 In April we also picked up our first group of very cute heritage breed piglets. Our commitment to ONLY raising heritage breed piglets continues with our newest piggies - these are crosses of berkshire, old spot and large black. The pigs are currently undergoing intensive training to respect electric fencing, then we will be moving them throughout the farm to root, munch and play in the fields.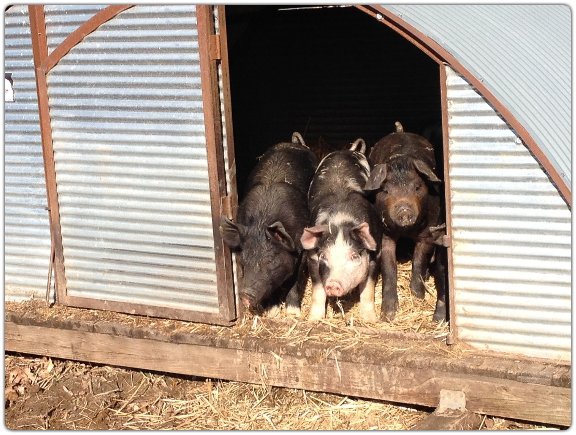 Our first group of meat chicks are already several weeks old and will be heading out to pasture this coming weekend. Look for the coops on route 2 and Sudbury road to come alive next week!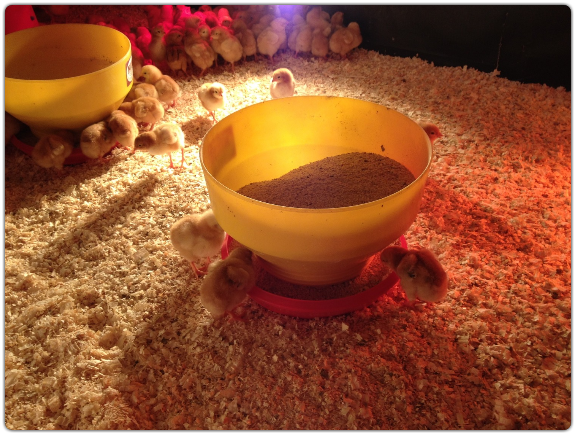 Greens greens greens! We are now harvesting fresh greens from our greenhouses! More to come this week so check out the mini-store today!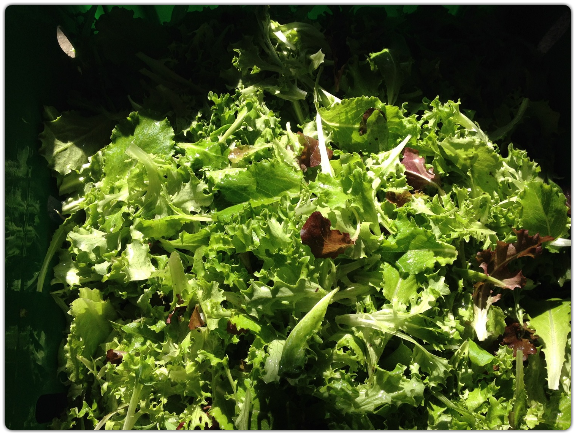 by Pete on March 4th, 2014
The on-line store is now open!
Reserve
tasty chicken and pork today!
by Pete on February 28th, 2014
Online ordering will officially begin on March 4th! Get set, ready....get them chickens!

by Pete on February 18th, 2014
Thanks to our wonderfully supportive customers we have nabbed our thief! An anonymous tipster provided the identy of our newest pilferer. After reviewing countless hours of footage on our security system we discovered the perpetrator had been nicking items from the store for many many weeks. The grand tally was in the hundreds of dollars! With the help of the Concord police we were able to track down the individual and she has since paid us for most of the items taken from the mini-store.

We have now posted a sign in the store alerting folks more clearly that the little space is indeed under 24 hr surveillance - for all our safety. We hope this does not deter folks from visiting our small shop and enjoying all the tasty treats we have to offer.

We need the honor to remain in the "honor-system" which all of us have enjoyed for many years now.

Thanks again for all the support and kind words.

by Pete on February 7th, 2014
Theft - it happened again!
Today we discovered someone stole eight (8) packages of our tasty ground pork and one dozen cracked eggs. This person entered our mini-store at 9:58 am today, February 7th and after perusing our wonderful offerings decided to help herself to our entire stock of ground pork. There was no effort to pay in anyway.

We believe this person has stolen the same items at least twice before over the last couple of weeks. In total over 20lbs of ground pork (plus eggs) worth over $200 has been taken.

As some folks know, this occurred a couple of years ago. We reluctantly posted the images of the person who made off with our products without paying and luckily this person came clean within 48 hours and sent us a check for the items she "borrowed. "

It breaks our hearts that folks find it necessary to take advantage of the HONOR in our honor store. We work extremely hard to provide the best and tastiest products we can grow and trust that folks believe in what we do and are willing to actually pay for all the items we have to offer.

Help us keep the honor store open and please assist us in finding this person. Please forward, tweet, Facebook, pass these images on to everyone you know in the hopes the person in question will come clean and pay for the items she took today.

The person appears to be a woman in her 20's, thin, wears glasses and in the images below is wearing a ski cap which says "Clarkson". Help us identify and find her!