Poultry Processing
Mobile Poultry Processing Unit (MPPU)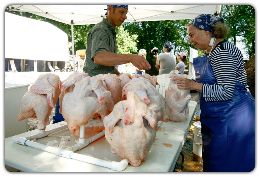 Over the years we piloted a new and innovative mobile poultry processing facility for processing our own chickens on the farm. This unit is owned by the
New Entry Sustainable Farming Project
where Jen is the Director. We were one of several area farms who were licensed and approved to use the unit. We are currently not using the unit as we are growing more birds than we can process on the unit. There continues to be a great need in the state for a legal, affordable, and humane way for small scale growers to process their own chickens and sell direct to consumers. We have been leading the way and Jen has been instrumental in bringing the MPPU project to fruition in Massachusetts.
If you are a farmer and interested in using the MPPU on your own farm contact the
New Entry Sustainable Farming Project
, where Jen is the Director, to attain more information.
From the 2010-2014 seasons we've had hundreds of volunteers of all ages and backgrounds come to the farm and help us process birds. The days are long and the work can be exhausting but it's rewarding and enlightening experience for many.

At this time, however, due to our ever-expanding farm and family we have decided to process birds off-farm. Our lives are so busy and we found processing weekends to be so overwhelmingly hectic we just needed to take a break. We are grateful to have had over the years so many wonderful and dedicated volunteers help us bring our tasty birds to market. Never say never and we may indeed begin processing again but for now we are enjoying the break and time with our beautiful son.